Tech support & product installation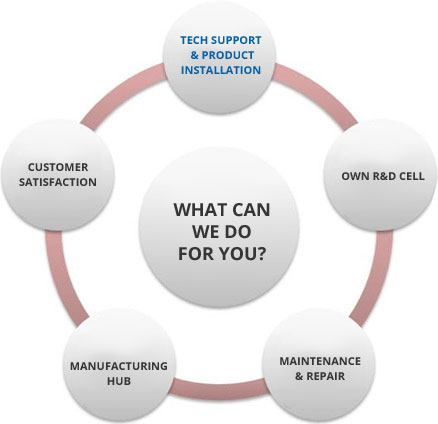 The KC Group lays utmost importance to high values and strong professional ethics. Our foremost mission is to achieve 100% customer satisfaction.
As a leading manufacturer and exporter of high-end, state-of-the-art equipment for technical education and R&D Laboratories, our constant endeavor has been manufacturing and supplying high-end performing equipment. Customer requirements, rapidly changing technology needs, safety and pre-sales & post-sales services are the key words for our equipment development programme.
Easy to operate, KC products deliver optimum performance year after year. Besides that, to help our clients properly, we put our products in place and provide vital start-up tips, we send our highly skilled technical teams to the site of installation.
Our help desk is more than happy to guide customers and answer their every queries.
TECHNICAL SUPPORT WITH KC GROUP :
24x7 technical support, 365 days of the year.
Commissioning - Installation and handling guidance & training of staff shall be looked after, by our experts.
Provision of clear and precise details about usage of equipments.
Provision of exceptional safety measure guidance, during and after the training of your staff.
PRODUCT INSTALLATION WITH KC GROUP :
Products purchased from KC Group, are installed at the site requested by the customer.
All installations are carried out by technical experts.
Technical guidance is provided to staff at the customer's site.
Safety norms are precisely explained to the staff at the customer's site.
PRODUCT DEMONSTRATIONS WITH KC GROUP :
After we install the equipments, we do an on-site workshop with our clients, in which we give a detailed demonstration of each product.
This helps our clients to understand the functions and uses of the products.
Our demonstrations can be attended by students for the enrichment of their learning.
The on-site demonstration is absolutely necessary as it enumerates and notifies the lab-attendants and students, about the rules and regulations to be observed while using the equipments.
KC Group arrange yearly workshops which further carry out the erudition of students and others involved in handling the lab equipments.
LAB PLANNING WITH KC GROUP :
We give our clients world-class planning and strategies for their labs.
During the planning of a particular lab we keep in mind that adequate space has to be allotted to each equipment and for the participants.
Space planning and designing is a major aspect of our lab planning process. Our strategies make sure that all the research functions can be conducted without any space issues and the equipments can be fully utilized.
A laboratory can be small or have different segments allotted and for each laboratory our strategies and planning are unique and novel.