Customer satisfaction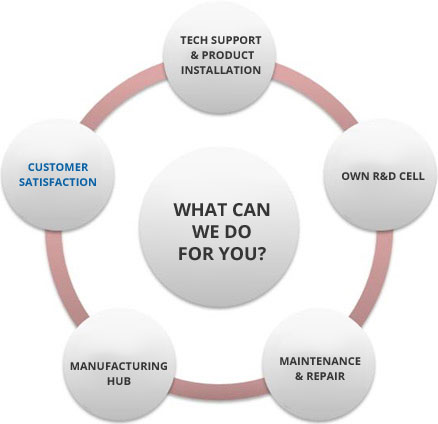 OUR MOTTO
At KC, we lay utmost thrust on customer satisfaction, offering prompt pre-sales and after-sales services to assist our clients at every step.
We have a dedicated team which goes to the customer site for marketing and support. While our competitors don't bother much about the after-sales service, for us the bond with our customers doesn't end right after a product is sold. We keep the record of all our customers up to 10 years and give best possible support to them at every point.
At KC, not only the staff gets involved with customers on 1:1 basis but directors, too, interact with the customer mostly on 1:1 basis.
CUSTOMER FOCUS :
At KC, every possible step is taken to ensure that we achieve our prime-objective of attaining 100% Customer Satisfaction. For establishing fruitful relationship with our customers, we make every possible immediate effort to cater the individual requirement of our customers. Some of procedures implemented by us for the benefits of customers are as under :
Quotation submission against customer inquiries within 24 working hours
Commitment to deliver the goods within stipulated time-period
Installation, commissioning and demonstration of equipment at the requested sites by the customers.
Earliest response to any after-sales query.
WHY CUSTOMERS CHOOSE KC :
Neatly designed products.
Well-defined standard operating procedures
Quality Thrust: ISO 9001 : 2008 Company; Implementation of 5 S Culture and other quality control procedures
Clearly defined Sales Process
100% Customer Satisfaction Approach
One-person contact approach
Educated and proper manpower deployment
Computerised Billing, Data Collection, Recording, Inventory System
Post Sales and Service Follow-up System