Manufacturing hub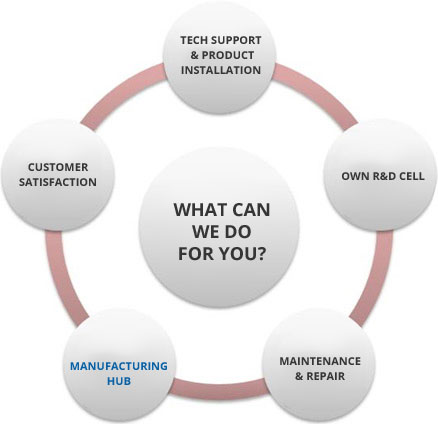 BRIEF INSIGHT INTO OUR INFRASTRUCTURE FACILITES
We have scientifically designed workshops at HSIIDC Industrial Estate, Ambala Cantt and Industrial Growth Centre, Saha, Distt. Ambala. Total covered area: 32,000 sq feet.
FACILITIES AVAILABLE
CNC Turning Centre, CNC Vertical Milling Centre Machines, Hydraulic Press Brake, Hydraulic shearing Machine, Drilling machine, Pneumatic Grinders, Lathe Machines, Testing Equipment/Instruments and Accessories, Tig Welding Machine, Mig Welding Machine, Arc Welding Machine, Welding Table, Hand Shearer, Roll Bending Machine, Bandsaw Machine, Pneumatic Clinching Tools, Paint shop, complete set-up for manufacturing electric panels and tie-ups with some ancilliary units located at Ambala Cantt and nearby regions.
OUR MANUFACTURING PROCESS GOES UNDER THREE PHASES :
PRE-PRODUCTION PHASE
Product feasibility, general design, final design
PRODUCTION PHASE
Production, testing, painting, assembly, final testing
POST-PRODUCTION PHASE
Packing, delivery, installation, demonstration, training, after-sales service